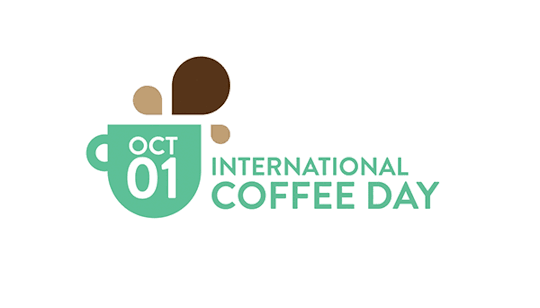 International Coffee Day is a global celebration of coffee's journey from the farm to your local shop — an opportunity to honour the women and men who grow and harvest the coffee we love.

In 2015, the ICO launched the first official celebration of ICD with a dedicated website featuring more than 70 events from 35 countries across the world. In 2016, nearly 130 events from 54 countries were posted on the ICD website. In 2017, celebrations were held by people in every continent: from Egypt to South Africa, from Canada to Brazil, from Norway to Greece, from Azerbaijan to Indonesia to Vanuatu. The ICO is once again calling on its Member countries, private companies, independent businesses, public associations, and coffee lovers around the world to organise an event or campaign for ICD 2018 with the theme"Women in Coffee".

Probably the best way to enjoy International Coffee Day is by enjoying some coffee on this day. This can be a cup of black coffee, a Caramel Macchiato, a Mochaccino, a Caffe Latte, Caf Au Lait, Cappuccino, Americano or an Espresso. On this day, coffee shops all over the globe will often give their customers a free cup of coffee on this holiday. If you're a regular coffee drinker, then this is a good day to change up your usual cup of coffee and try something different. If you're not a coffee drinker, then this might be the day you want to try one. However, you decide to celebrate this day is as unique to you as is your favorite cup of coffee. So grab a cup and enjoy!